20 Years of SJU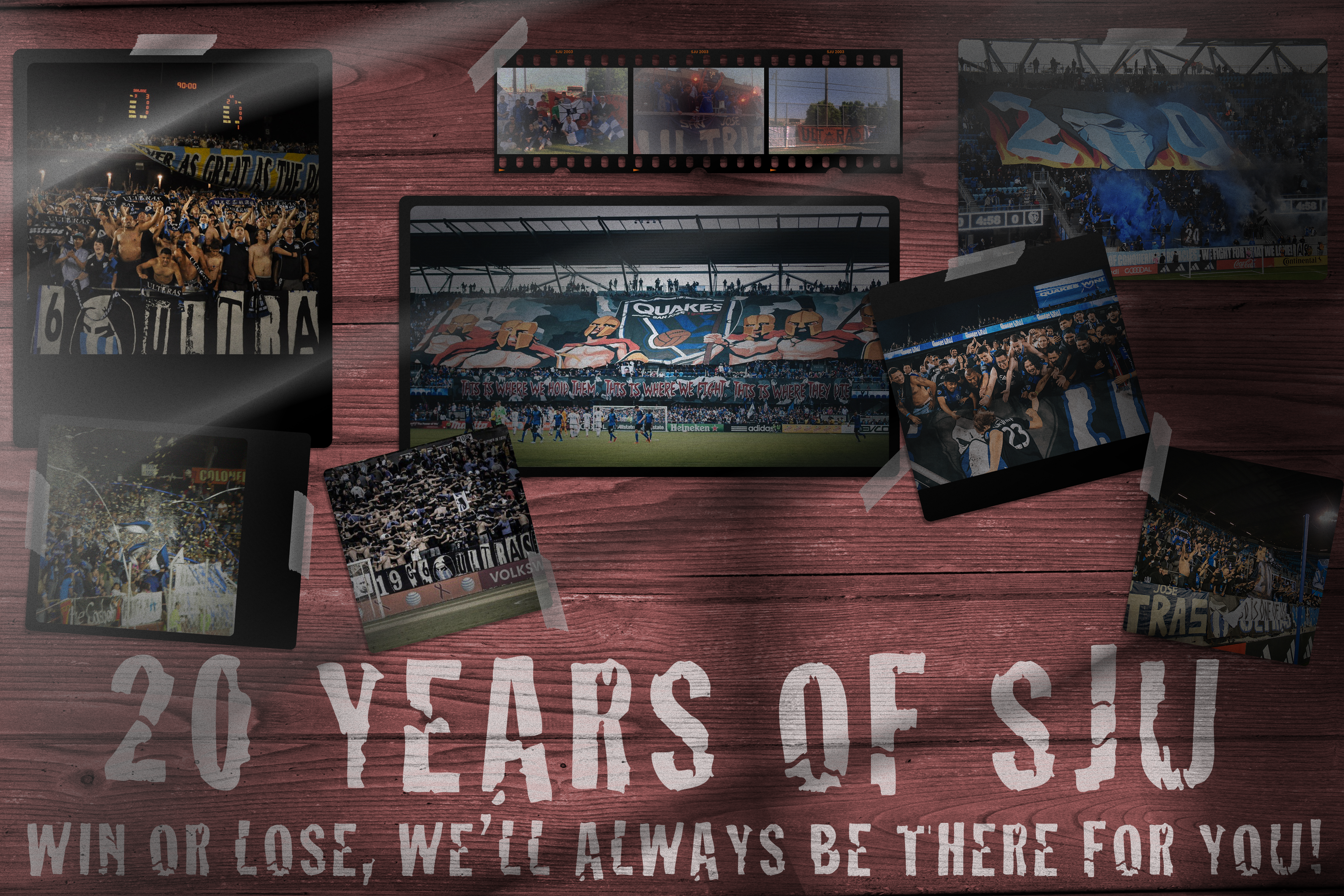 On April 19th, 2003, the San Jose Ultras made its first appearance during the Quakes vs. Kansas City Wizards match at Spartan Stadium. We were a very small group with a very big heart and even bigger dreams. Many of us came from other countries where soccer was more important than religion and where game days generated more enthusiasm than paydays. While there were already some supporter groups in MLS at that time, we wanted to create something different and unique – something that helped many of us cope with missing our friends, families, and, of course, our favorite clubs from our native countries.
From Day One, SJU was designed to function as a family – that the group comes before the individual and actions are more important than words. And just like in any family, the members care, love, and support each other and our club through the good, but especially through the bad. SJU has never been about titles, personal agendas, chasing trends and attention. Instead of focusing on individual differences, our focus has always been on what unites us: our love for the Quakes and for the group.
Over the years we worked and sacrificed plenty to embody the ideals and standards of the mentality that distinguishes ultras groups like ours across the world from those that are manufactured and developed through deep pockets, focus groups, and demographic research which is nowadays the norm in MLS. Guided by solid principles, fierce mentality, independence and unconditional loyalty for our club and for each other, we encountered and conquered countless obstacles and challenges while emerging stronger and wiser. Focusing on quality instead of quantity has allowed us to have an indestructible core and to boldly make our mark through our actions, songs, tifo, flags, and banners – that's a large part of why we have been around longer than 19 of the current MLS teams.
We would like to thank everybody who was and especially those who still are a part of SJU after all these years. After many bad seasons, many losses, problems with the league/front office, etc, we are still here standing and chanting for the club until we lose our voices; still leaving our families while we travel around the country supporting the team; still working on hot days and cold nights on our tifo displays; still standing proud for the cause we believe in. It was all worth it! We built history, we built memories, and, just like we dreamed 20 years ago, we built a family! At our anniversary game this past Saturday – Kansas, again, what a coincidence! – the tifo, the atmosphere in our section, the players wearing our shirts, and their attitude on and off the pitch are all signs for a better future – a future built on the same principles and loyalty that got us here!